Happy Feet International Set to Welcome Hundreds of Flooring Dealers for Chattavegas 2.0
---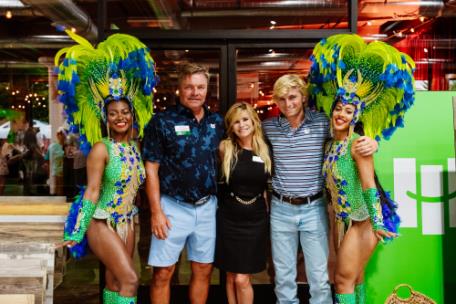 Happy Feet International, a luxury vinyl plank and tile producer headquartered in Chattanooga, is hosting its second annual Vegas-themed expo. The company took a gamble by launching the event in response to the COVID-19 pandemic when it was unable to make it to trade shows in Las Vegas. Son of CEO Casey Johnson, CJ coined the name Chattavegas for the inaugural event.
"During the pandemic, many of the major flooring shows in Las Vegas, which are crucial to how our industry does business, have been postponed," Johnson said. "We came up with the idea of ​​bringing old-school Vegas to Chattanooga, and it ended up being a win for our business."
Last year, more than 200 guests from across the United States attended Chattavegas, and Happy Feet expects an even bigger turnout as this year's event expands to two days. Chattavegas 2.0 is hosted at Happy Feet International headquarters at 200 N. Holly St., Chattanooga, Tennessee 37404.
The main event will take place on Thursday, June 16, from 12 p.m. to 8 p.m. It will include casino games such as craps, poker and slot machines as well as a prize range, seated lunch and dinner and an open bar.
Additionally, there will be exclusive offers only available on Chattavegas 2.0. The showroom will give a first look at new Happy Feet products from the Black Label collection, the Made in the USA collection, new trims and more.
The second day, Friday June 17, is an exclusive experience with a round of golf or a spa treatment. Customers who pre-purchase five or more pallets of Pinnacle, Happy Feet's latest high-end luxury vinyl flooring, are eligible to attend Day Two.
Happy Feet partners with The Westin Chattanooga, the host hotel for Chattavegas 2.0 accommodations. Current and new customers are eligible to register for the event, and new customers must create an account to attend.