JK Tax Department Hosts Interactive Session with Stakeholders
---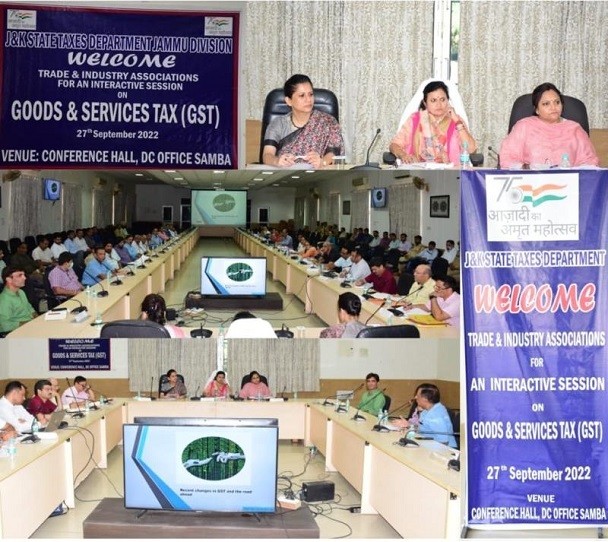 SAMBA, SEPTEMBER 27: The Department of Taxation, J&K hosted a Goods and Services Tax (Laws) Stakeholder Outreach Meeting on Tuesday here in the DC office conference room.
Commissioner, State Taxes, J&K, Dr. Rashmi Singh chaired the interactive meeting of industrialists, members of the Traders Association and state tax officials from the Kathua and Samba areas.
During the interactive session, the latest updates on the country's GST laws were discussed with merchants, manufacturers, store owners, retailers, industry owners, though different projected issues by participants related to the GST were also discussed.
The state tax commissioner has appealed to stakeholders for tax compliance and timely filing. She insisted on holding regular public awareness programs in coordination with the various stakeholders.
The Additional Commissioner for State Tax Administration and Enforcement, Nitu Gupta, has urged trade unions to sensitize the public on the proper issuance of e-invoices/invoices. Additional Commissioner for Tax Planning, Ankita Kar, while addressing their issues, sought input from unions and industry associations on policy-related issues.
During the meeting, recent GST changes and a roadmap and action plan were also discussed in detail.
Several issues and suggestions raised by traders, industrialists and retailers have been adequately addressed by the Ministry, while issues requiring immediate redress have been resolved by the Commissioner and those relating to policy issues have been addressed. .
Trader organizations and industry participants expressed their gratitude to the department for organizing these interactive sessions.
The meeting, among others, was attended by Ranjit Singh, DC Enforcement Kathua; Bal Krishan, DC Judicial; Sanjay Gupta, DC Application Samba; Aijaz Qaiser, AC Enforcement Samba and Sona Gupta, AC Enforcement, Kathua.