Nearly 80% of CNH dealers expect loss of revenue for new comprehensive products due to strike
---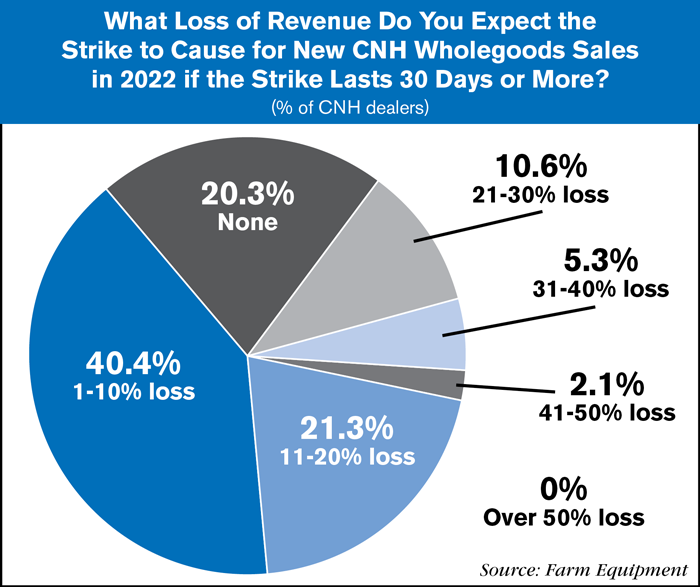 A recent survey of Farm equipmentconducted May 3-4, found that 79.7% of CNH dealers (both Case IH and New Holland dealers) expected some loss of full new product revenue if the ongoing strike lasts 30 days or longer.
More than 40% of CNH dealers surveyed expect a further loss of revenue of 1-10% if the strike lasts 30 days or more, while 21.3% expect a loss of 11-20%. Just over 10% of dealers expect a loss of 21-30%, with only 5.3% predicting losses of 31-40% and 2.1% predicting a loss of 41-50%. Just over 20% predicted no further revenue loss for whole products.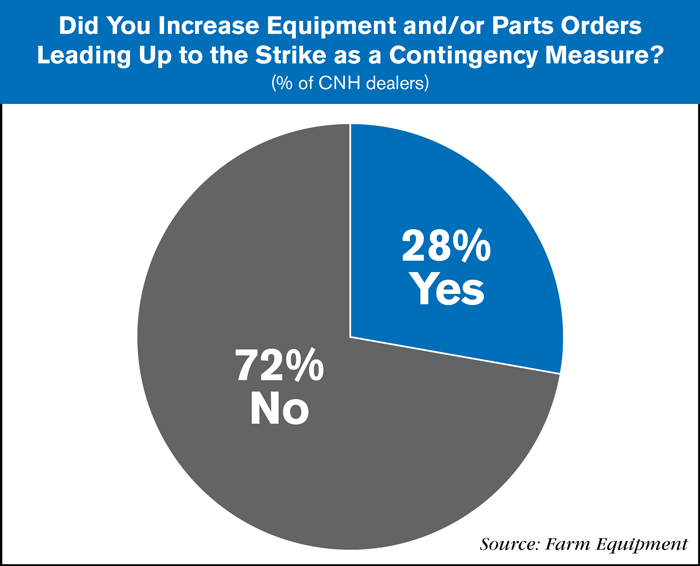 Only 28% of CNH dealers surveyed said they had increased their orders for equipment and/or parts before the strike.
Dealers of all brands were asked whether they agreed or disagreed with a series of strike-related statements. The statement that elicited the most agreement from dealers asked whether they agreed that concessions made at this stage of the strike would lead to price increases and relocation of production in the future, which 91.2% of dealers agreed. Another 76.9% of dealers agreed that CNH Industrial would make a good faith effort to resolve the strike.
Just under half (47.9%) of all dealers surveyed said they thought the strike would be resolved soon, while just 23.8% said they thought the strikers deserved what they seek in negotiations.
Looking only at responses from Case IH and New Holland dealers, 51.9% said they thought the strike would be over soon and 83.5% said they thought CNHI would make good faith efforts in the negotiations.
How will customer purchasing plans be affected?
When asked how they expected their customers' planned purchases would be affected by the strike if it lasted 30 days or more, responses from Case IH and New Holland dealers were mixed. Many felt the impact of the strike would do little to affect an already difficult supply chain situation, with one New Holland dealer saying: "My customers already know we won't get much fall anyway, and it was going to be very limited. since we are an NH retailer."
Another Case IH dealer agreed, saying, "Equipment is already sold out through the fall, so the impact would be Q4 2022/Q1 2023. With equipment already in short supply, I don't don't think it will change behavior."
Still others were more concerned about the outcome, when a Case IH dealer said, "Customers are reaching a point where price increases are starting to be less welcome. Add to that unions demanding more as farm inputs rise and margins fall. is not a good picture. I don't think that will make my customers want to buy equipment.
More than one CNH dealer mentioned the possibility of their customers switching to other brands if they cannot obtain equipment from them. "Customers will go to whoever has the equipment they need/must have…No inventory, no sales," said a New Holland dealer. Another Case IH dealer said, "Our competitors (Deere/AGCO) have caught up and are well stocked. This is being used against us right now.