Punjab Excise Department breaks link of illegal scotch liquor bottling
---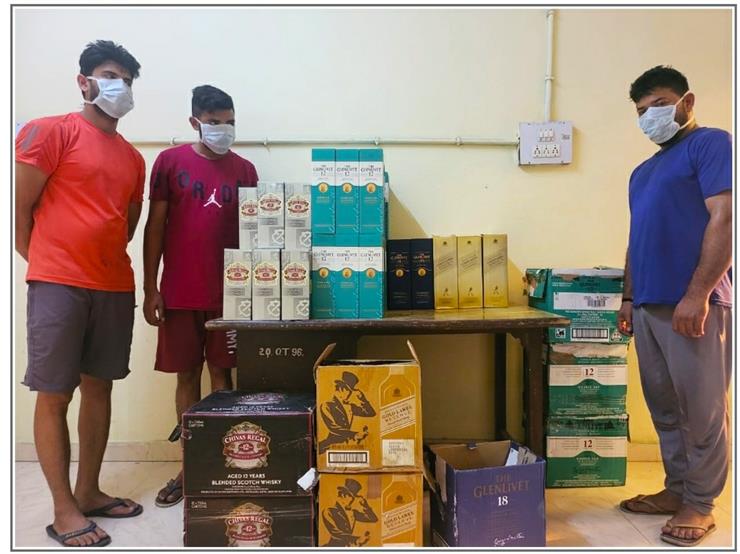 CHANDIGAR: An organized liquor smugglers unit was busted by the Punjab Excise Department and Fatehgarh Sahib District Police. The gang was involved in filling cheap liquor smuggled from Chandigarh into expensive imported brands of scotch. 4 gang members were arrested with fake liquor, including 4 cases of Chivas Regal, 4 cases of Glenlivet and 2 cases of Gold label reserve.
Excise Commissioner Varun Roojam has reiterated that the Punjab government has a zero tolerance policy when it comes to liquor smuggling or any illegal activities related to excise. He said action would be taken in accordance with the law against the accused.
Disclosing the details, Joint Excise Commissioner Naresh Dubey advised that secret information had been received that an organized gang was involved in smuggling cheap liquor from Chandigarh to Punjab and then filling it into branded bottles expensive scotch. Through the coordinated efforts of the Excise Department's Special Operations Group (SOG) and the Fatehgarh sahib district police, information has been gathered.
Two days ago, the team learned that the accused Kundan visht S/O Mohan Singh R/O H. No. 226, Kajhedi Village, Chandigarh will supply the fake scotch liquor with his gang members. In order to catch the accused in the act, teams from the Excise and Police Special Operations Group came into action and a special nakabandi was carried out. The teams had success when two cars Tata Tiago CH01BV9460 and Swift HR51BD5918 were intercepted on naka near khamano and four gang members Kundan Visht, Harshwardan S/o Satishwer Parshad R/o H.No. 19, Defense Colony Ambala, Pardeep Singh S/o Jagdev Singh R/o Village Nyangarh, Jeend District, Haryana and Jasmin Kaur D/o Rajveer Singh R/o Sangrur were arrested at the scene. The team found 4 cases of Chivas regal, 4 cases of Glenlivet and 2 cases of Gold label reserve in the transported shipment.
During interrogation, the gang members further revealed that they smuggled cheap liquor from Chandigarh and filled it in empty expensive scotch bottles at their rented residence. Later, the team raided the rented residence of Pardeep Singh and Jasmin Kaur in Madanpur, Mohali district and recovered 2 crates of High Speed ​​(for sale in Chandigarh), 2 crates of King Gold (at sell in Chandigarh), 1 crate of UK no . 1 (for sale in Chandigarh), 150 empty bottles of UK no. 1 (on sale in Chandigarh), 21 empty bottles of High speed whiskey, 3 empty bottles of Singleton whiskey, 5 empty bottles of Black label Johny walker, 14 empty bottles of Blue label, 5 boxes of Glenlivet, 2 boxes of Black dog gold , 1 box of Glenfiddich 15 years and Caps from Glenlivet, Glenfiddich & Black label.
During the investigation, the defendants also admitted that they purchased empty bottles of scotch brands from various scrap dealers in Mohali and Ludhiana region and were also involved in this racket. Police teams are in pursuit of these dealers and their premises are searched to arrest them.
FIR No. 60, dated 26-05-2022, was filed at Khamano Police Station against Kundan Visht, Harshwardan, Pardeep Singh and Jasmin Kaur under Sections 61/1/14 and 78(2) of the Punjab Excise Act and CPI Sections 420 and 120-B